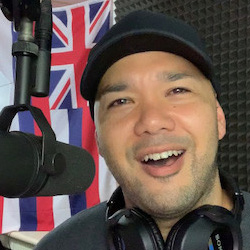 Born and raised MAUI! Broadcasting since 1999.
#NoFakeLaughing #NoFakeRadioVoice
"Double Shakas, Big Smiles, Keep da ALOHA ALIVE"
FUN FACTS
Favorite Food- Hamachi Kama
First Concert- Blaisdell Arena 1992… TLC opened, Boyz II Men featured, MC Hammer headlined.
Favorite Travel Destination- Las Vegas for UFC, poker, & craps!
Favorite Movie- "Lock, Stock, and Two Smoking Barrels"
Karaoke Song of Choice- "Groovin" UB40
Surprising Thing About You- My Baldwin High School Advertising Arts teacher, Mrs Sato, pretty much dared me to get into broadcasting after I voiced a commercial for my senior year group project… and here we are today.
Quote You Live By- "Confidence… thrives on honesty, on honor, on the sacredness of obligations, on faithful protection and on unselfish performance. Without them it cannot live." – Franklin D. Roosevelt