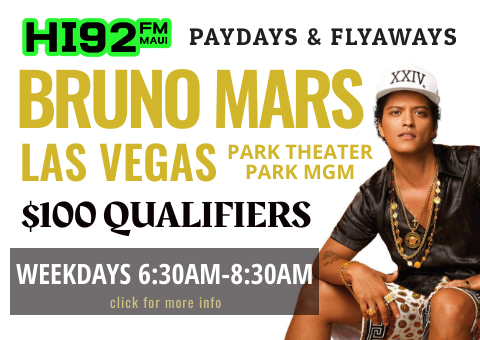 Win a trip for 2 to see Bruno Mars in Las Vegas at the Park MGM!
Listen weekday mornings from 6:30am to 8:30am for the "Back to Back Bruno" (two Bruno Mars songs in a row) and be caller 24 at (808) 893-0925! You'll win $100 and a qualifying spot to fly out to Las Vegas (via Vacations Hawaii) to see Bruno Mars at the Park MGM, Monday September 9th!
Las Vegas trip will be awarded Tuesday August 27th.
Must be 21 and older and a Maui resident to play.
Grand Prize details: Two tickets to see Bruno Mars at the Park Theater at the Park MGM on September 9th, 2019 at 9pm. Winner and their guest will fly out of OGG on Sunday September 8, 2019 at 10:40am, then from HNL to LAS on September 8, 2019 at 2:05pm. Winner and guest return to HNL from LAS on Friday, September 13, 2019 at 9am. Then fly from HNL to OGG on September 13th, 2019 at 2:34pm. Package includes a 5-night stay at a Vacations Hawaii choice hotel, 3 meals daily and ground transportation between McCarran Intl Airport, hotel, and back Fees may apply to any changes to set itinerary.